Anne – from a bad start to doing well
Tap above to play video
Featured in Anne and Graham's story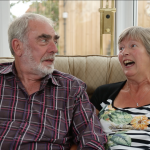 Anne – from a bad start to doing well
"The first time I tried it I cried - but now I actually look forward to putting NIV on!"
- Anne
Anne first tried NIV at home, when her MND specialist nurse brought it to her for a trial. Anne's very first impressions weren't so good – when the nurse placed the mask over her face she burst into tears.
Anne reflected on this experience and thought she might feel better if she put the mask on herself. From then on Ann tried building up in small chunks of time, using it in the daytime initially so she could get used to it.
After around three weeks she was able to use NIV all through the night. To her own surprise Anne now actually looks forward to putting her NIV at night, knowing it helps her to have better quality sleep.