Anatomy of an NIV mask
Tap above to play video
Featured in Debbie's story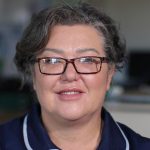 Anatomy of an NIV mask
Getting the right mask for you and staying comfortable
Finding the right mask for you can be a little unpredictable but your care team are there to help. Some people find that the first mask they try fits them well. Other people may need to try out a few masks. It may leak too much or it may be uncomfortable.
Everybody's faces are different – from the shape of the jaw, to the size of the nose. Thankfully there are several shapes and styles of masks so you will find one that fits.
Even with the right fit, things can get sore when a mask is worn for a long time. We share some troubleshooting tips to help keep your face and skin as comfortable as possible. Also see the MND Association's information sheet on ventilation for more trouble shooting tips in External Resources.
Top tip:  A slight amount of air leakage from the mask is okay and normal. If the machine doesn't alarm it should be okay.