James – five months on
Tap above to play video
Featured in James and Steph's story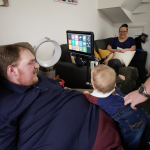 James – five months on
"He now has it for a couple of hours in the day, then he wears it through the night"
- Steph, James' wife
James has been using NIV now for five months. His wife Steph and the family have supported him to get used to it, as well as his care team. The NIV it is now part of daily life.
James is now wearing NIV through the night, with a couple of hours top up in the day. Night carers come in to keep an eye on James, so Steph can care for the baby and be rested ready for work.
A keen plane spotter, James like to think of his mask as a "fighter pilot's mask". He often relaxes watching take off videos online whilst using his NIV in the day.
Steph has noticed an improvement in James' energy levels in the daytime. This is helpful for family days out.