Anne – holidays with NIV
Tap above to play video
Featured in Anne and Graham's story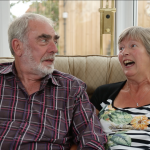 Anne – holidays with NIV
"We go to our caravan every weekend, we're all set up there with a generator"
- Graham, Anne's husband
NIV needn't tie you down to your home. Many people get about to interesting places and weekends away, and perhaps even a holiday abroad. Anne and Graham share their experiences of travel with NIV in tow and offer some tips for how to prepare.
They go to their caravan most weekends and have perfected their routine and power needs. They have also flown with NIV.
If you are planning on flying some preparation is needed. You will need an official letter from your care team explaining what the machine is. You may need to arrange additional hand luggage. The MND Association have useful leaflets with tips on planning travel with NIV. You can find these in External Resources.
Top tip:  If travelling overnight take a long extension cable. Power sockets can be in awkward places!